Mari upgrade blog kita
January 01, 2009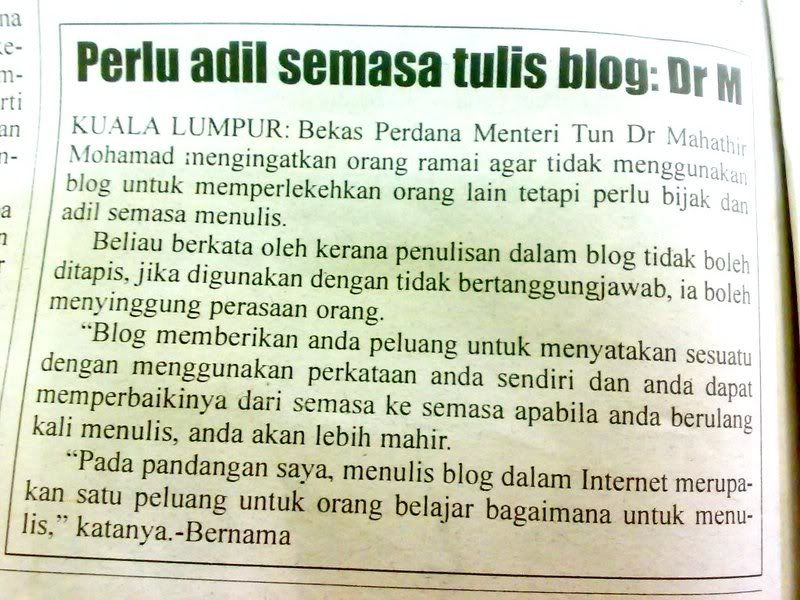 :: Surat Khabar Sabah Times keluaran 19th Disember 2008 (kalau tidak silap) ::
Azam pertama saya :
Sempena Tahun Baru ini, marilah kita sama-sama menyahut seruan Dr M dalam menghasilkan blog yang memang rupa blog (oh?).
ETIKA

– ingat RUKUN NEGARA yang ke-5, okay? Jangan cakap kau tak ingat pula =) CONTOH - Jangan

copy & paste

hasil tulisan orang tanpa izin atau sekurang-kurangnya anda seharusnya memberi kredit dengan menyertakan sekali pautan sumber atau

source link

pada entri anda tersebut.

Minimumkan penggunaan perkataan singkatan

yang menyakitkan mata itu.
Tatabahasa Inggeris atau Melayu (atau bahasa Dusun?) yang tunggang langgang macam aku tidak mengapalah,

yang penting jati diri itu

. Haha.
Tidak perlulah agaknya yang 100% baku macam skrip berita – membosankanlah.
Tulis ayat campuran Melayu dan Inggeris pada saya tidak apa (

sometimes we express something better in English

), TETAPI campuran dan blender bahasa Inggeris dan Melayu TERLAMPAU dalam setiap satu ayat

sewaktu bercakap

depan khalayak memang

BURUK sama sekali

. Teringat waktu

meeting

tadi. Jengkel ah.

Bijak dan adil

dalam penulisan.
Rancang apa yang ingin kamu tulis sebelum mula mengarang.
Other things that ALSO or MAY ALSO have sense
,
Originality
Drafted and edited before publishing
Noktah dan koma lah di tempat yang sepatutnya

Be alert on your spelling

Write on things you know well.
(Pesanan penaja : Saya tidak gemar politik, jadi saya tidak bicara soal politik.)

Don't be a fake.
Penggunaan tanda seru dan noktah atau koma yang berlebihan.
Err.. Sebenarnya ini, saya tulis ikut peraturan saya sendiri.

Well, saya cakap macamlah saya ni bagus sangat. Apa pun, itu pandangan peribadi saya. Sebarang surat menyurat tidak akan dilayan. Ahaha.